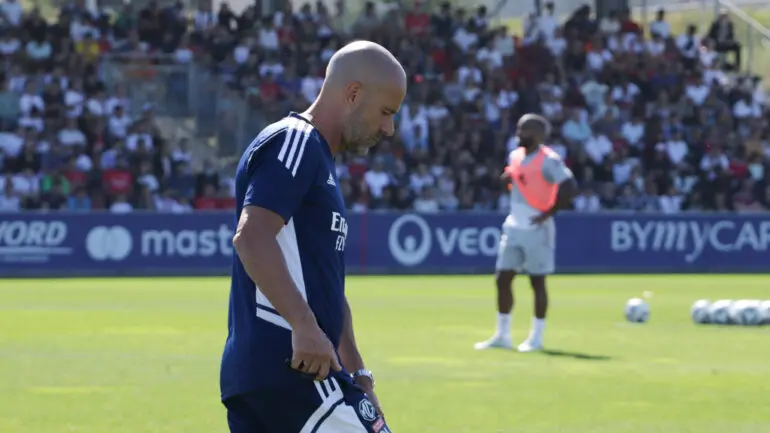 OL coach Peter Bosz / (Credit: Romane Thevenot)
Assuring that he knew nothing about Nicolas Tagliafico, Peter Bosz recalled the importance of a left side. He also ensures that OL has already anticipated in the event of several departures in a sector.
From our special correspondent in Saint-Michel-Gestel (Netherlands).
Will come ? Will not come ? Nicholas Tagliafico took time but finally decided. After much hesitation, the Argentinian left side will land well at theOL according to From Telegraaf. By signing between Rhône and Saône, the player ofAjax will remove a great thorn from the side of the Lyon management. Faced with the non-arrival of Tyrell Malacia, the Lyon club found itself a little helpless and had to find a fallback solution because recruiting a full-back was the priority. This Thursday, Peter Bosz repeated it once again even if he did not want to confirm the arrival of Tagliafico.
"We need someone on the left because Emerson is gone and right now we only have Henrique, observed the Dutchman. I had Léo Dubois play in preparation because he had already played in this position before but it is clear, we have to recruit. Tagliafico? He's a good player but I don't know more."
---
Bosz: "I chat every day with Bruno Cheyrou and Vincent Ponsot"
---
With Leo Dubois leaving for Galatasaray, Henrique therefore finds himself as the only lasting solution to this position. From Friday, they should now be two for the position. Whether Tagliafico arrives, Dubois leaves and the degreasing operation desired by the coach and the management finally takes shape. Which doesn't mean there won't be more arrivals. The Lyon technician acknowledges that he has not "no need for 30 players" but the vagaries of football with injuries can lead to thinking differently. To fart Bosch and his staff have experienced this since the start of the preparation with the physical glitches of Corentin Tolisso and Maxence Caqueret. Nevertheless, it will only be departures that will guide arrivals and theOL seems ready on the question.
"I speak with Bruno (Cheyrou) and Vincent (Ponsot) every day and it's not the question of knowing if we need someone but if players are going to leave, warned the coach. We saw Leo who normally goes to Galatasaray and it can happen with other players too. If there are one or two departures in a sector of play, we have already talked about what we were going to do on these positions.
With the files Houssem Aouar, Lucas Packageto or even Jerome Boateng still on hold, the Lyon transfer window is currently on stand-by even if the search for a number 6 remains relevant. In Lyon, a lot of things should still change between now and September 1.